Hydrogen for a climate-neutral energy system

Green gases such as hydrogen, together with gas infrastructures, provide answers to many questions of the energy transition. Hydrogen molecules have three major advantages as an energy carrier over electrons, which generate electrical voltage  when moved in a magnetic field: 
Hydrogen can be transported in the existing gas network. Only minor technical modifications are required for this purpose. Many of our pipelines are already H2-ready.
Hydrogen molecules can be stored in large quantities, for example in special tanks or in underground cavern storage facilities. 
It can be stored for a long time. This means that renewable energy can be planned and controlled by means of hydrogen, and the dependence on wind and sun is less compared with renewably generated electricity. 
How is hydrogen produced?

Hydrogen (H2) is the smallest and lightest element - but only occurs naturally in compounds, for example in water (H2O). Pure hydrogen gas must therefore be synthesised. This can be done in a number of ways.
Image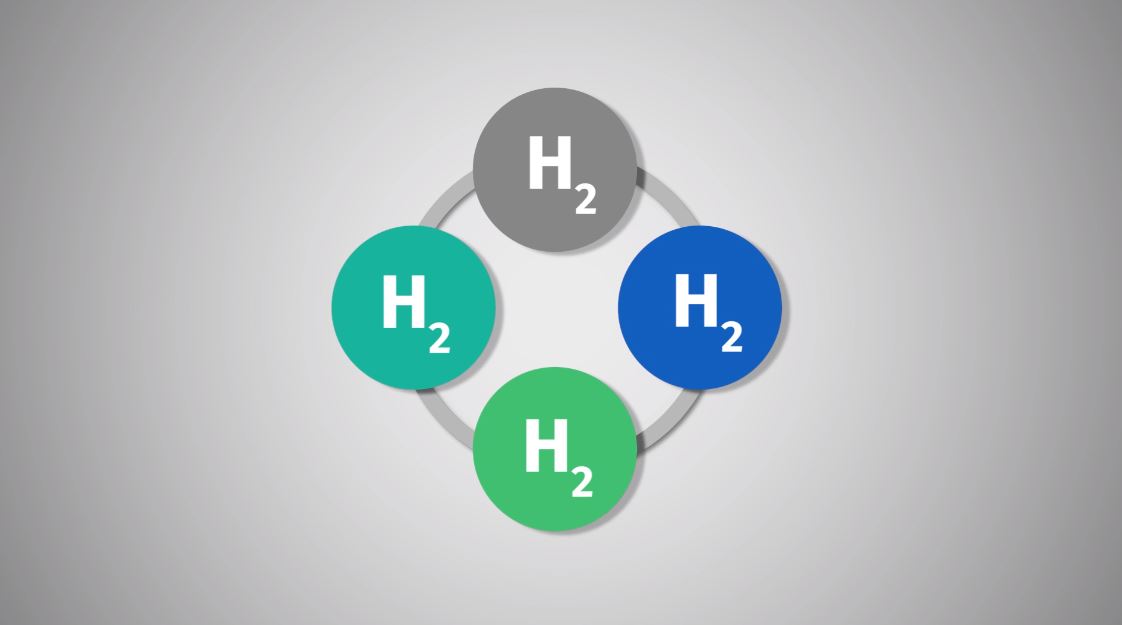 If hydrogen is produced in a climate-neutral way by means of electrolysis with renewable electricity, it is referred to as green hydrogen. The renewable electricity is used to split water into oxygen and hydrogen. Alternatively, green hydrogen can also be produced from climate-friendly biogas or biomethane, for example through steam reforming.
Hydrogen obtained from fossil fuels, the production of which results in CO2 emissions, is referred to as grey hydrogen. One common process is steam reforming from natural gas. Grey hydrogen is mainly used in industry, for example in the chemical industry in the production of ammonia.
In the production of blue hydrogen, the CO2 produced during steam reforming is sequestered by carbon capture and storage (CCS) and transported to underground storage sites, for example under the North Sea floor. Blue hydrogen is also referred to as decarbonised hydrogen.
When hydrogen is obtained from carbon-based energy sources by breaking down methane, it is referred to as turquoise hydrogen. Methane is broken down into hydrogen and solid carbon by a process known as pyrolysis. The solid carbon can be used as a raw material in industry, for example in road construction. This is why we speak of carbon capture and utilisation (CCU).
INFOGRAPHIC

How is hydrogen produced, transported and stored, and how can it be used?
 
Image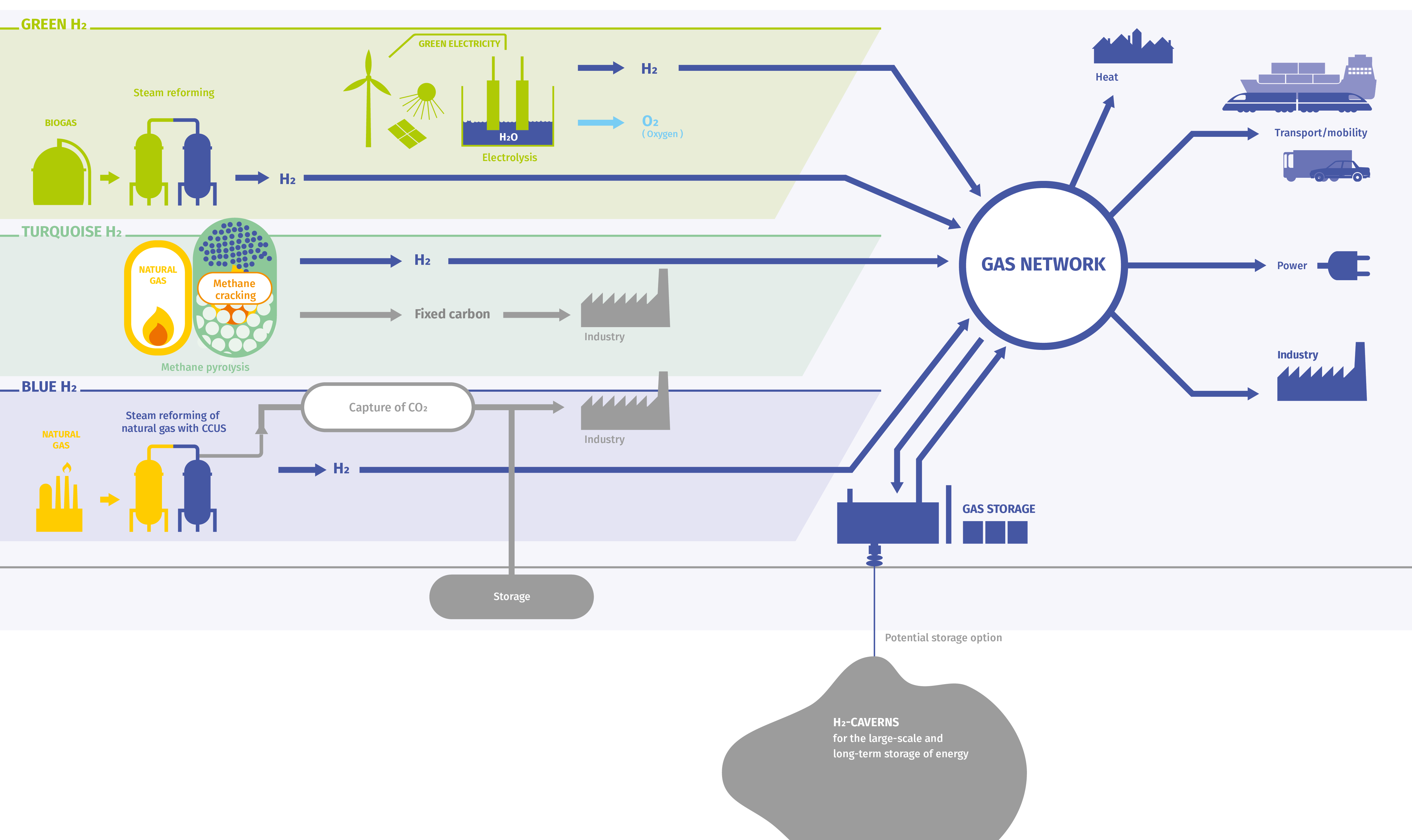 We want to be H2-ready by 2025

In the coming years, VNG aims to transform itself into a company that operates with green gases in all areas – from generation to transport and storage to trading. We want to be H2-ready in all business areas by 2025. This will mean that the technological applications and the business models for the generation, storage and transport of hydrogen must be developed to the point where they can be scaled up for the market without further preparatory work. 
We are therefore continuously driving forward the transformation of the energy system together with competent partners from all areas of the energy industry. A good example of this is the "Bad Lauchstädt Energy Park": here, all stages of the hydrogen value chain will become a reality within just a few years. In the Energy Park and in numerous other projects, we are working to build the hydrogen economy of the future. 
Our corporate strategy "VNG 2030+" provides the basis for this transformation. In this strategy, we defined at an early stage how we intend to develop into a green gases company in the coming years. This of course also applies to our internal processes: a large number of colleagues in all business areas are now working on hydrogen-related projects. In addition to recruiting new personnel, we also brought numerous colleagues up to speed through training and continuing education. After all, the hydrogen economy and also the energy transition need experts who not only have the answers to the many questions whether big or small, but can also implement them.
From natural gas to biogas and hydrogen

Our many years of experience with natural gas and biogas help us develop and establish new business models with hydrogen. With our diverse range of skills, we have established ourselves broadly in the hydrogen economy and thus form part of the solution for transforming our energy supplies. Our activities extend from investing in H2 start-ups [Link to corresponding subpage] or participating in research projects and feasibility analyses. Soon, plans and projects will become real business cases.
This is important for us as VNG, but also for the energy supply as a whole: switching to climate-neutral hydrogen as quickly as possible will also contribute to security of supply. 
Bad Lauchstädt Energy Park
The entire value chain modelled in a forward-looking project 
Glossary - green gases
Steam reforming is a cost- and energy-efficient process for the production of hydrogen from fossil energy sources, such as natural gas, benzine, methanol, biogas or biomass, with the addition of steam.  
Law in Germany that regulates the preferential feeding of electricity from renewable sources into the power grid. 
A thermo-chemical conversion process in which methane is broken down into (turquoise) hydrogen and solid carbon under high temperatures.
Networking of the energy and industrial sectors of electricity, district heating, industry and transport as part of the energy transition.
Synthetic methane is produced using the power-to-gas process. After hydrogen has been produced by electrolysis, it is converted into synthetic methane by methanation with the addition of carbon dioxide.
Image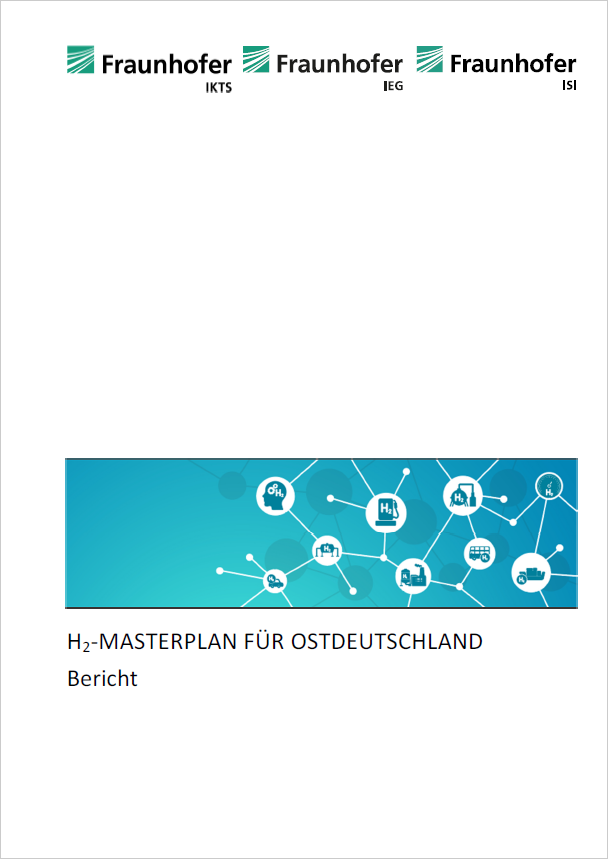 The "Hydrogen master plan for Eastern Germany" outlines the steps towards establishing a hydrogen economy in eastern Germany.