Transformation and innovation
Systemic transformation with vison

The energy industry is changing from the ground up and at a rapid pace. With new solutions and technologies, we also want to make our contribution to making the energy system renewable and CO2-neutral. This transformation is affecting all areas of our company.
Tomorrow's energy world cannot run on electricity alone: fuels will remain essential because they can be stored in large quantities, transported efficiently, and used in a wide variety of ways. Trading, transporting and storing natural gas therefore remains the core of VNG's business activities today. In the medium and long term, the importance of natural gas will decrease.
We are therefore pressing ahead with the expansion of our biogas generation and with the ramp-up of hydrogen, that is to say with the transformation to green gases. This has implications for trading and sales, gas transport and storage.
At the same time, this transformation must also be affordable for customers and in harmony with social needs. This also includes security of supply, which must be assured even after the transformation to green gases. This is why we are expanding our inventory of biogas plants and holding numerous talks with future hydrogen trading partners. We are also involved in various projects to develop a transport infrastructure for hydrogen and climate-neutral gases. By 2045 at the latest, we want to completely replace today's fossil natural gas with biogas and climate-neutral hydrogen.
The future lies with green gases

With the 'Green Gases' roadmap, we are gradually creating the conditions for fully exploiting the advantages of renewable and decarbonised gases such as biogas, biomethane and hydrogen. With their climate protection potential, they offer themselves as a potential solution for all sectors.
Image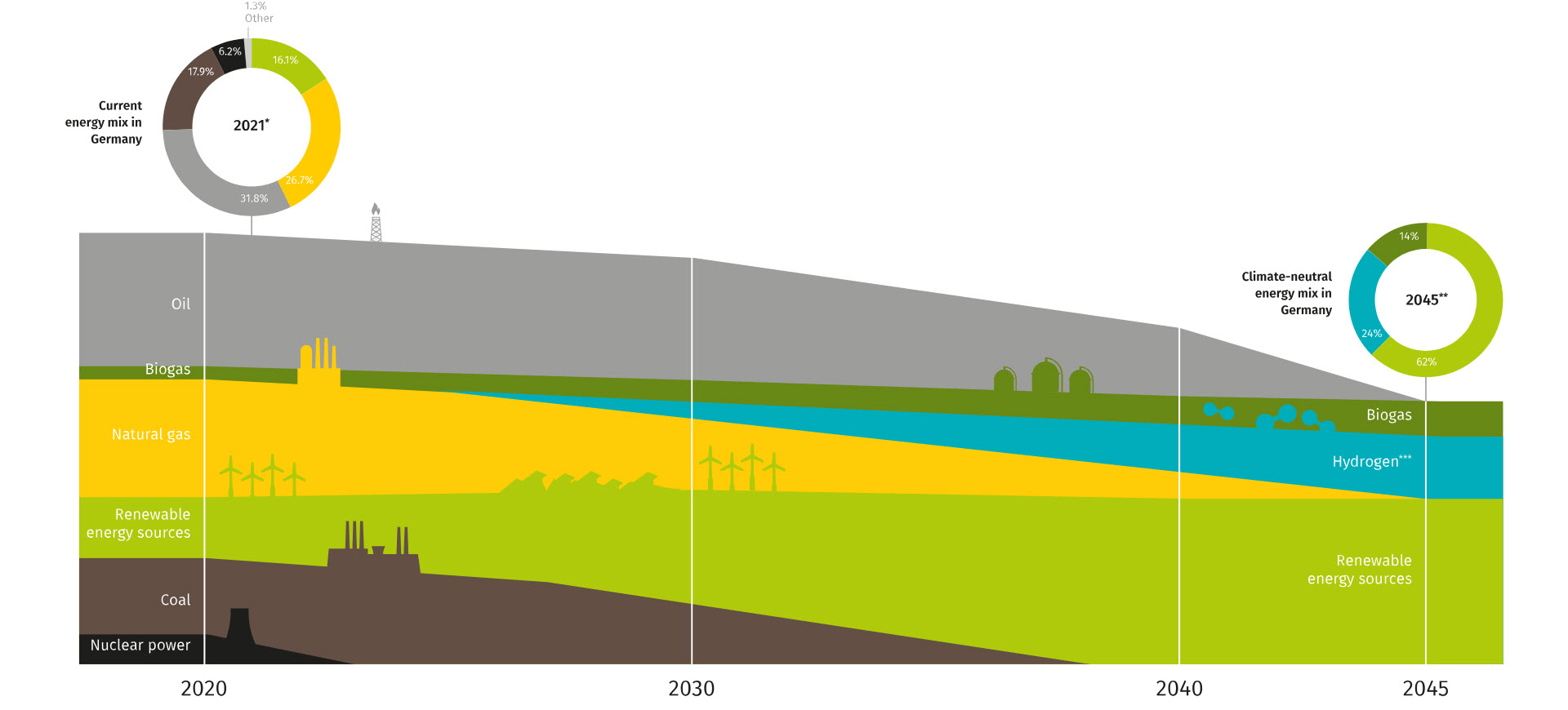 This simplified schematic representation refers to the forecast development of energy supply by energy source in Germany.
* Primary energy consumption in 2021; source: AG Energiebilanzen, as of December 2021.
** Climate-neutral energy mix from 2045; source: own projections and estimates.
*** This relates to green, blue and turquoise hydrogen
What will the world of gas look like tomorrow?

As VNG, we are doing everything we can to develop solutions for the climate-neutral future with green gases and in this way to further accelerate the transformation of our energy system and the development of a CO2-neutral economy. VNG sees itself as an active shaper of the energy transition. What motivates us is the vision of making VNG green, digital and gas-based.
Green, because a modern energy system must be sustainable and renewable and green gases will be an important complement to renewable electric energy. However, climate protection will only work if it is affordable and does not compromise the security of supply.
Digital, because smart processes play a key role in sector coupling and in the development and coordination of infrastructures. The focus is on, for example, the expansion of fibre optic communications.
Gas-based, because gas is particularly climate-efficient and, thanks to the wide range of technologies and its flexibility, has numerous applications. In the future, the security of supply can only be achieved with gaseous energy carriers. This is what makes the green gases of the present and the future so important.
"VNG 2030+" strategy
For us, one thing is certain: together with our partners and customers, we want to offer the right services and products for gas and energy, even in an increasingly complex energy market. That's why we launched a Group-wide strategy process called "VNG 2030+" in 2017. This developed a strategic perspective for VNG that is geared not only to economic demand but also to the exacting energy policy and social requirements. In this way, we have sought to hold our own in the face of intense competition and evolving challenges, and to exploit the earnings potential. 
After four years of successful implementation, our strategy was revised in June 2020. We now emphasise the further development of the core business and take into account to an even greater extent digital infrastructures and the green transformation of the energy market.
As VNG, we have been preparing the transition from concept to implementation from 2021. With flagship projects such as the Bad Lauchstädt Energy Park, we want to establish ourselves as a technological pioneer. 
At the beginning of 2023, the strategy received another update. By increasing the investment sum to 5 billion euros (gross) by 2035, we are accelerating the implementation of our roadmap for the transformation towards renewable gases and driving forward the hydrogen and biogas ramp-up in eastern Germany. We aim to play a significant role in the value chain of climate-neutral gases - especially in the area of infrastructure. The goal remains a reliable gas supply in the long term, with which we successfully contribute to an increasingly decarbonised economy and society.
Ideas, innovations and partnerships
 
The energy transition is a huge challenge. The current upheavals in gas supply makes it yet more so. That's why we need smart ideas and carefully thought-through innovations that can achieve the goal of climate neutrality. 
Image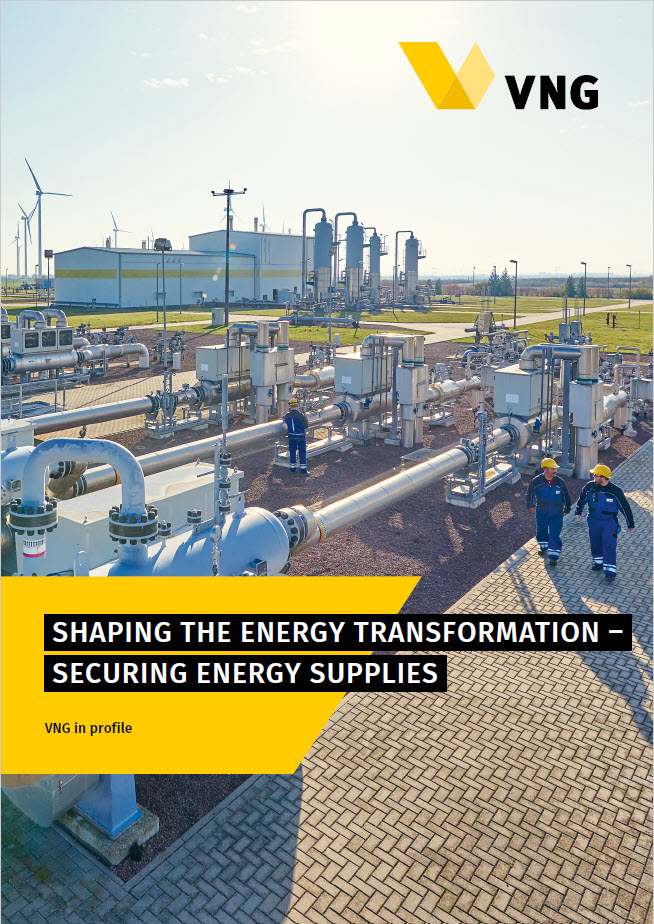 VNG image brochure 2023
Shaping transformation - securing energy supply