Financial statements for 2020: Economic success for VNG, plus substantial progress in green gases
Despite the challenges the coronavirus pandemic brought with it, VNG results are positive for the 2020 financial year. The gas group, based in Leipzig, was able to increase its adjusted EBIT to EUR 179 million, building on the very strong business activities of the previous year. VNG recorded consolidated profit of EUR 46 million, while achieving substantial progress in implementing the 'VNG 2030+' corporate strategy at the same time. "We can look back on a successful 2020. All of our business divisions have again contributed positively to our overall results, in some cases exceeding expectations significantly," said VNG CEO Ulf Heitmüller at today's annual results press conference. 
VNG, which is active across Europe, had a total workforce of 1,305 as at 31 December 2020 (2019: 1,155), recording billed revenue of EUR 9.8 billion for the 2020 financial year (2019: EUR 10.5 billion).  
"We're delighted we've been able to weather the coronavirus storm comparatively well to date. Looking back on 2020 we can say that the difficult circumstances did not hold us back and we were able to be economically successful. Of particular note here is the substantial progress we have made in implementing our 'VNG 2030+' strategy for the future. We have come a good deal closer to achieving our goal of becoming greener and more digital, based on our core expertise in the gas business. This is in no small part thanks to the tireless dedication of our employees," emphasised Heitmüller, who has been at the helm of the VNG Group since 2016. 
Totalling EUR 392 million, VNG again increased its investment volume on the previous year (EUR 345 million), with the Transport and Biogas business areas seeing the most investment. A sharp uplift in growth was thus recorded in the biogas business, alongside further expansion in the facilities portfolio of biogas subsidiary BALANCE Erneuerbare Energien GmbH (BALANCE): The number of operated biogas facilities grew from 26 plants with a capacity of 95 megawatts rated thermal output (MWRTO) in 2019 to 35 plants and 136 MWRTO by the end of 2020. Another investment focus was the acquisition of Gas-Union GmbH, based in Frankfurt, which has additionally strengthened the trading and sales business of VNG.
"In line with our 'VNG 2030+' strategy, we have further optimised our established business segments, at the same time as pushing ahead with the development and expansion of new areas of business. We have also firmly anchored hydrogen as a climate-friendly energy source in our strategy. We want to do what we can to secure the role of green gases in achieving climate targets in the near future," said Heitmüller.
Business areas have surpassed targets 
"Despite the generally difficult circumstances, we have ultimately been able to exceed our performance and financial objectives by some margin, so we can be cautiously optimistic about the future," said Bodo Rodestock, Member of the Executive Board of VNG responsible for finance and HR. "To date, the pandemic has fortunately left no significant mark on our overall results. We have benefitted again from strong operational performance, increasing from the previous year to EUR 179 million (2019: EUR 133 million), and a cost-conscious approach." In the 2020 financial year, subsidiaries ONTRAS Gastransport GmbH (ONTRAS), VNG Gasspeicher GmbH (VGS), VNG Handel & Vertrieb GmbH (VNG H&V) and BALANCE and thus all business segments made a positive contribution to results. Because of one-off negative effects, consolidated profit was lower than the previous year at EUR 46 million. The bottom line, however, was positive annual results for the fifth time in a row. 
Transport: ONTRAS makes positive contribution to results and shapes hydrogen development 
The Transport business area remains a central pillar in the VNG Group. Overall results for ONTRAS were above the previous year's level. "As an independent transmission system operator, ONTRAS plays a major part in the business success we are reporting today, as well as a crucial role in security of supply and the ramping up of green gases," said Hans-Joachim Polk, Member of the VNG Executive Board responsible for infrastructure and technology. "We are also facing the challenge here of establishing a national and European hydrogen infrastructure. In this context, the VNG Group is doing pioneering work through various studies and initial pilot projects." Through its involvement in network development planning and as a member of the 'Gas for Climate' group, which is developing the 'European Hydrogen Backbone', ONTRAS is helping to establish a national and European hydrogen network.
Storage: VGS uses positive market environment to its advantage 
VGS has also played a positive role once more in shaping the financial year. Various factors favoured the market environment, encouraging storage fill levels to be above average for some time. "It's particularly pleasing that VGS was successfully able to make use of comparatively high summer-winter spreads for itself," said Polk. "VGS also benefitted from optimised cost structures and savings that we have been consistently pursuing for some years. Our current infrastructure consisting of networks and storage facilities ultimately provides the basis for transforming natural gas as an energy source into renewable and decarbonised gases such as biogas and hydrogen."
Trading & Sales records increase in sales volume
VNG Handel & Vertrieb GmbH was likewise able to continue its successful course in the 2020 financial year, posting profit in the double-digit millions. Trading & Sales saw levels above those of the previous year in the end customer business and business overseas. Particularly of note are the strong operational results from domestic wholesale trading in the major customer segment. Gas sales amounted to 599 billion kilowatt hours (kWh), again exceeding the previous year (approx. 516 billion kWh). Alongside the successes in wholesale trading, this increase is also attributable to growth in B2B sales volumes.     
B2C sales (private households and trade, commerce and services) remained steady at the previous year's level. B2B sales were boosted in particular by the acquisition of Gas-Union, the addition of new industrial customers and the expansion of additional sales channels in Germany. "It's extremely pleasing that our trading and sales business is making a reliably positive contribution to our overall results and we are maintaining this track record together," said Heitmüller. 
Strong growth in biogas 
The growth trajectory of BALANCE continued in 2020 with acquisitions and takeovers (35 biogas facilities as at 31 December 2020). Two further facilities have already been added in 2021 thanks to a plant completion in Saxony and an acquisition in Thuringia, taking the total number of biogas facilities to 37. The BALANCE portfolio has therefore increased more than fivefold since 2018. With an installed rated thermal output of around 150 MWRTO, BALANCE is now one of the leading biogas facility operators in Germany. 
"Throughout the VNG Group, we are committed to successfully shaping the energy transition and contributing to the achievement of climate targets. Biogas and upgraded biomethane play a key role here, as they are already making a major contribution to decarbonisation and can also be used flexibly, stored and used to supply the base load," explained Polk. "Our subsidiary BALANCE is on an ambitious growth trajectory. As part of VNG's green gas strategy, we want to continue to develop BALANCE into one of Germany's leading sector representatives in this fragmented market. At the same time, we are boosting rural areas by preserving valuable jobs and providing farmers with long-term sources of income through a regional and sustainable circular economy."
VNG's commitment to hydrogen in the regions of central Germany undergoing structural change Bad Lauchstädt Energy Park as a flagship project for green gases
The Bad Lauchstädt Energy Park is a shining example of VNG's transformation towards becoming a green, gas-based group of companies. Together with its subsidiaries VGS and ONTRAS as well as other partners, VNG intends to convert renewable electricity from a wind farm at the park into hydrogen using a large-scale electrolysis plant with a capacity of up to 30 MW. The green hydrogen is to be supplied to the chemicals industry in nearby Leuna through a natural gas pipeline that is to be repurposed by ONTRAS. The hydrogen produced will be temporarily stored in a salt cavern operated by VGS, which is nearly 180 metres deep and specifically equipped for this purpose.  In December 2020, the representatives of the consortium of companies submitted the final application to Project Management Jülich/Federal Ministry for Economic Affairs and Energy (BMWi) for funding as a 'living laboratory for the energy transition'. Polk is eagerly awaiting further development of this large-scale power-to-gas project at Bad Lauchstädt Energy Park in the 'Chemical and Energy Triangle' in central Germany: "We anticipate a positive response from the authorities by mid-2021 and then want to get implementation underway."
"We're delighted that actual work on the project is likely to start this summer. The aim of this showcase project is to demonstrate that large-volume production, underground storage, transport via pipelines and cross-sector use of green hydrogen in central Germany is possible on an industrial scale and makes financial sense," continued Polk. "The Bad Lauchstädt Energy Park can help us to conduct further research into green hydrogen as a technology of the future and to make it ready for market. It is also our intention to boost momentum in the region and to develop central Germany into a technologically strong and future-focussed hydrogen region, making it an important nucleus of the hydrogen industry in eastern Germany. Alongside providing public utilities and contributing to the common good in our region, we will always have a close eye on the structural changes that are on their way in central Germany, which we want to help shape as a company."
Outlook for 2021: Further focus on decarbonised business segments
"In 2020, we succeeded in using our resources very efficiently and responsibly at the same time. This, together with a solid capital basis and very strong operational performance, lays the foundation for further consistent implementation of the 'VNG 2030+' strategy," summed up Rodestock. Within the framework of its core areas of expertise, VNG is above all pursuing the strategic aim of playing a significant role in the value chain for climate-neutral gases. At the present time, VNG still has the task of positioning natural gas as an ideal partner to renewable energies. Green gases will, however, foreseeably continue to gain in importance over the medium-to-long term. "As VNG, we also want to make a contribution to the success of an effective energy transition towards a low-CO2 and, in the long term, CO2-free society through healthy economic growth," added Heitmüller. "In this regard, it's very important for us to focus on scalable and at the same time sustainable business segments such as biogas. In addition, hydrogen, as an environmentally friendly energy source, has been anchored in our strategy even more deeply since mid-2020, and with a long-term climate-neutral perspective. We want to make our business areas 'H2-ready' by 2025."
Image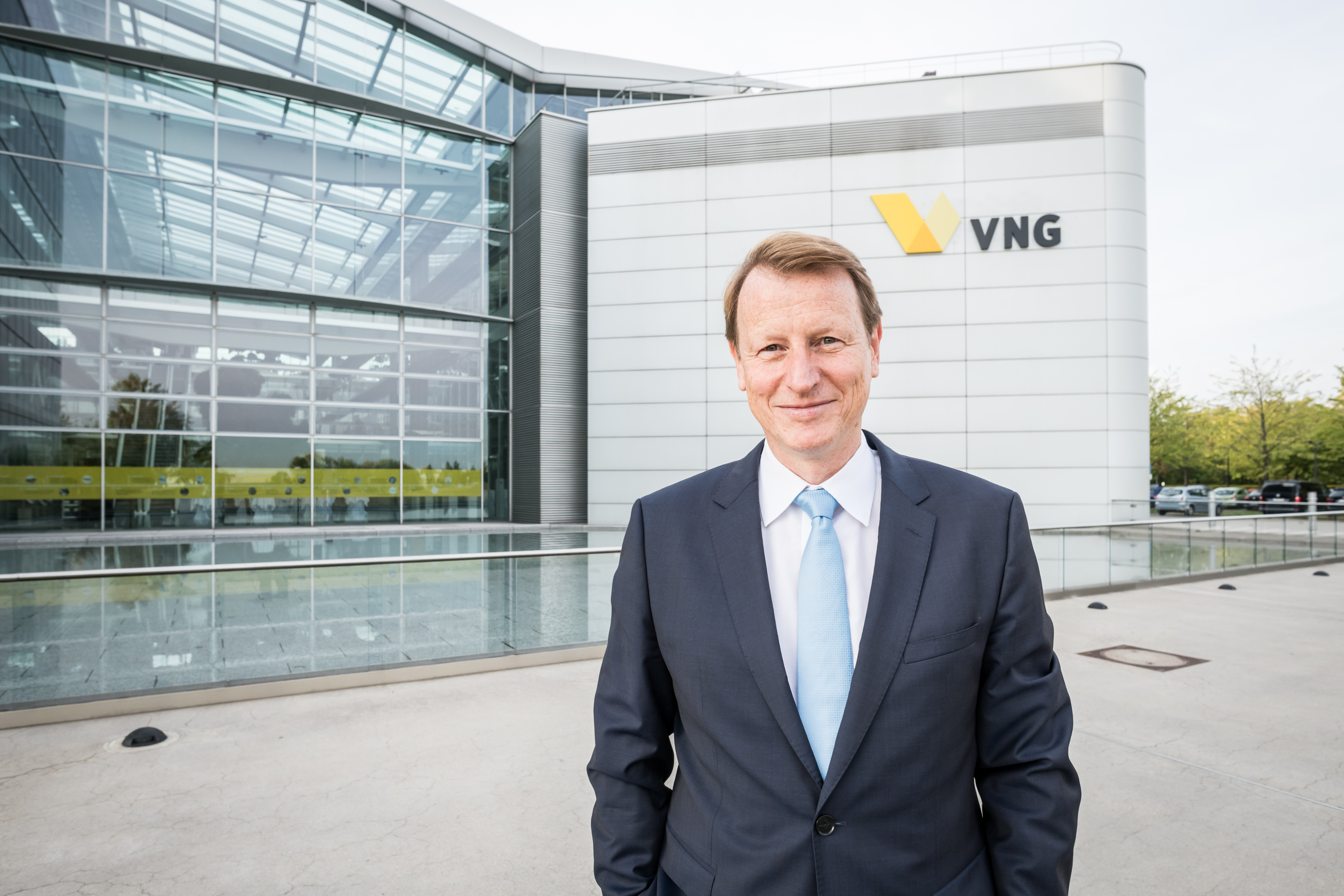 Ulf Heitmüller, Vorstandsvorsitzender der VNG AG mit Hauptsitz in Leipzig (Copyright: Eric Kemnitz / VNG AG)