Financial statements for 2021: VNG financially successful – looking ahead to a challenging year in 2022
"Putin's war of aggression in Ukraine is a turning point for Europe. We are stunned and appalled by the brutality of the Russian government. The daily reports and images of the destruction and humanitarian catastrophe in Ukraine have left us shocked," Ulf Heitmüller, CEO of Leipzig-based VNG AG, opened this year's balance sheet press conference with emphatic words. "At the same time, the Russian war of aggression is also a turning point for the European and German energy industry and therefore also for our company," adds Heitmüller.
"We – by which I mean business, politics and society – must now in addition to overcoming the acute crisis in shaping the future, succeed in aligning security of supply and climate protection much more closely, while not losing sight of the economic viability and affordability of energy supply for industry and consumers. A more rapid transition towards green gases and hydrogen as well as a diversification of natural gas purchases will therefore be essential in any event. That is why VNG is determined to promptly take steps to expand alternative sources of supply," underlines Heitmüller.
"The events in Ukraine overshadow the very good operational performance that we achieved in the financial year 2021. In spite of the ongoing corona pandemic and a historically rapid increase in the price of natural gas, VNG presented a strong operating performance in a generally challenging market environment and can point to a good annual financial statement. Our results are proof that we were able to act effectively and were financially successful in all business areas. At the same time, VNG 2021 succeeded in making further substantial progress in the implementation of the "VNG 2030+" Group strategy," says Bodo Rodestock, Board Member for Finance and Human Resources at VNG.
Active throughout Europe, VNG posted invoiced sales of EUR 18.5 billion for the 2021 financial year (2020: EUR 9.8 billion) and employed a total of 1,462 people as of 31/12/2021 (2020: 1,305). VNG invested EUR 197 million in 2021 in the continuing advancement of the "VNG 2030+" strategy. The focus of investment was on the business areas of transport and biogas.
In the 2021 financial year, VNG achieved significant increases in earnings: The consolidated operating result (adjusted EBIT) rose by 26 percent to EUR 225 million in 2021 (2020: EUR 179 million). The consolidated profit amounted to EUR 141 million (2020: EUR 46 million). "The result for 2021 is above our forecast. Despite significant fluctuations in the energy industry environment, we were able to significantly increase our earnings. All operational business areas of VNG once again made a positive contribution to earnings. This is the sixth time in a row that VNG has posted a positive annual result," says Rodestock.    
The Group subsidiary ONTRAS Gastransport GmbH (ONTRAS) once again made an important contribution to the positive annual result in the lower three-digit million range. The Transport division thus remains a central pillar of the VNG Group. In 2021, the Storage division reported relatively low storage levels, which can be attributed to comparatively high withdrawals on the supply side. Despite a challenging market environment, VNG Gasspeicher GmbH (VGS) achieved an adjusted EBIT in the mid double-digit million range. 
The large customer and trading business on European gas markets continues to be a key driver of earnings in the Trading & Sales division. At around 762 billion kilowatt hours (kWh), gas sales were significantly higher than in the previous year (2020: around 599 billion kWh), which is largely due to the expansion of sales volumes in the B2B area and the increase in trading volumes. Although the financial year was characterised by unprecedented volatility and at the same time historically high price levels, VNG Handel & Vertrieb GmbH (VNG H&V) was able to operate successfully and contributed to the Group result with a figure in the mid double-digit millions. 
The biogas business area was again expanded via BALANCE Erneuerbare Energien GmbH (BALANCE). In addition to a joint venture with EnviTec Biogas AG for the liquefaction of biomethane to bio-LNG, the importance of the expansion of the portfolio by three to 38 plants in northern and eastern Germany, which together have a thermal output of 157 megawatts, should be emphasised. This enables BALANCE to supply around 50,000 households with renewable electricity and another 49,000 households with green gas every year. The Biogas division achieved an adjusted EBIT in the low single-digit million range.    
Positive developments in the field of biogas and hydrogen
In addition to biogas, VNG is also focusing on hydrogen as a climate-friendly energy source for the medium to long term. In order to meet the German and European climate targets by 2045, a functional hydrogen market must be ramped up quickly. "Hydrogen will play an important role in the coming decades. I am therefore pleased that VNG, together with its five partners in this project, took the big step in the practical application of hydrogen in September 2021 with the official inauguration of the "Bad Lauchstädt Energy Park" project as a production scale laboratory for the energy transition. This project means that the complete hydrogen value-added chain for green hydrogen will be modelled in Central Germany: Green electricity generation from wind power, electrolysis, storage, transport, marketing," explains Hans-Joachim Polk, Board Member for Infrastructure and Technology at VNG AG.
Looking ahead, it is clear that 2022 will hold major challenges for VNG. "Our goal for 2022 is clear: Against the background of the changes that are emerging in the European markets, we are currently intensively reviewing our "VNG 2030+" strategy: Security of supply is becoming a greater focus in the present and future, LNG is experiencing a boom, while Russian natural gas will become less important in the future. Natural gas in general, however, remains a fundamental aspect in the further implementation of the energy transition, whereby the transformation towards green gases and hydrogen must be accelerated. These are demanding challenges, but needless to say we meet them head and with our customary commitment," announces Heitmüller.    
VNG is a group of over 20 companies active in the European energy industry with a broad, future-oriented portfolio of products and services in gas and infrastructure, and more than 60 years of experience in the energy market. The Group with its headquarters in Leipzig has a workforce of around 1,500 and generated billed revenue of approximately EUR 18.5 billion in the 2021 financial year. VNG concentrates on four links in the gas value chain: Trading & Sales, Transport, Storage and Biogas. Building on its core expertise in the gas business, the Group's 'VNG 2030+' strategy places an increased focus on new business fields. These include green gases and digital infrastructure. More at www.vng.de.
Image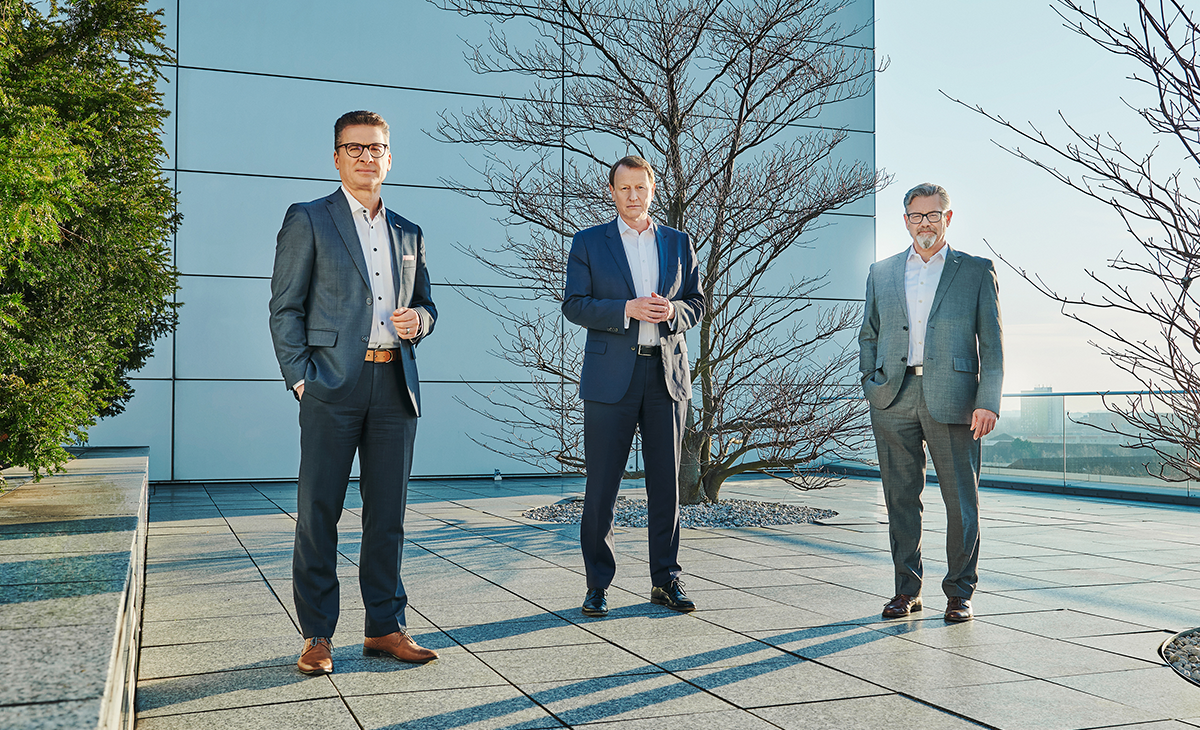 Executive board of VNG AG: Bodo Rodestock, Ulf Heitmüller und Hans-Joachim Polk (f. l. t. r.) © Jeibmann Photographik/T. Pross 
Finanzinformationen
Hier finden Sie die aktuellen Finanzkennzahlen zum Geschäftsjahr 2021.