Die VNG Innovation GmbH, ein 100-prozentiges Tochterunternehmen der VNG AG, hat heute ihre Beteiligung am Start-up Rhebo GmbH an das in Zug (Schweiz) ansässige Unternehmen Landis+Gyr veräußert. VNG Innovation war seit 2018 als strategischer Partner am jungen Industrial Security-Unternehmen aus Leipzig beteiligt. Landis+Gyr wird fortan alleiniger Anteilseigner an der Rhebo GmbH sein, da auch sämtliche anderen Gesellschafter ihre Anteile an Landis+Gyr veräußerten. Der börsennotierte und international aktive Anbieter für Energiemanagement-Lösungen plant die IT-Sicherheitstechnologie von Rhebo in ihren Produkten im Bereich "Smart Meter" einzusetzen.
"Wir sind sehr glücklich über den für alle Seiten äußerst erfolgreichen Abschluss. Es war uns eine Freude, die Entwicklung des Start-ups Rhebo in den letzten Jahren intensiv zu begleiten. Dieser zuvor beschrittene Weg und die jetzige Veräußerung entspricht der Philosophie der VNG Innovation GmbH: Unser Ziel ist es, in der Early Seed-Phase in junge, aufstrebende Unternehmen zu investieren, um diese als strategischer Partner auf ihrem Wachstumspfad bestmöglich zu unterstützen. Nun wissen wir das junge Leipziger Unternehmen bei Landis+Gyr in guten Händen", resümieren Dr. Matthias Tischner und Andreas Päts, Geschäftsführer der VNG Innovation GmbH.
Die 2014 als Start-up gegründete Rhebo GmbH hat sich mittlerweile zum führenden deutschen Technologieunternehmen für OT- und IoT-Cybersicherheit entwickelt. Als Dienstleistungsanbieter für Cyber Security unterstützt Rhebo vor allem Produzenten und Versorger in den Bereichen Gas, Strom und Wasser sowie Industriekunden bei der Sicherung ihrer IT und Leittechnik vor Cyberangriffen.
"Die Zusammenarbeit mit Landis+Gyr ist nicht nur für das weitere Wachstum von Rhebo eine positive Nachricht", kommentiert Rhebo-CEO Klaus Mochalski die Akquisition von Rhebo. "Mit der Integration von Rhebo in der Advanced Metering Infrastructure von Landis+Gyr erhalten auch Kritische Infrastrukturen weltweit eine sichere Lösung für die weitere Digitalisierung und Automatisierung ihrer Dienstleistungen". Davon ungeachtet wird das eingespielte Management-Team von Rhebo die Geschäfte auch in Zukunft ohne Veränderung weiterführen. "Für unsere bestehenden Kunden und Interessenten ändert sich nichts", ergänzt Mochalski.
"Rhebo GmbH steht exemplarisch für die Erfolgsgeschichten einer Reihe mitteldeutscher Start-ups, welche das renommierte HHL Accelerator-Programm des SpinLab durchlaufen haben. Als VNG engagieren wir uns seit nunmehr vier Jahren als starker regionaler Partner im SpinLab – The HHL Accelerator. Umso erfreulicher ist es, dass wir Rhebo dabei helfen konnten, ihre Entwicklung durch die Zusammenarbeit mit einem weltweit erfolgreichen Konzern wie Landis+Gyr auf eine neue Stufe heben zu können", so Dr. Tischner.
Rhebo gewährleistet als einziger herstellerunabhängiger Anbieter von industriellen Monitoringlösungen sowohl die Cybersicherheit als auch Stabilität von OT- und IoT-Infrastrukturen. Die Software und Services von Rhebo überwachen die Datenkommunikation sowohl innerhalb der Automatisierungstechnik als auch auf verteilten kritischen IoT-Geräten. Angriffe, Schwachstellen sowie technische Fehlerzustände werden in Echtzeit gemeldet. Rhebo unterstützt damit herstellerneutral Industrie-, Energie- und Wasserunternehmen, ihre Cybersicherheit, Produktivität und Anlagenverfügbarkeit zu steigern und die digitale Transformation der Prozesse zu sichern. Das Unternehmen ist Partner der Allianz für Cyber-Sicherheit des Bundesamts für Sicherheit in der Informationstechnik (BSI) und engagiert sich aktiv beim Teletrust - Bundesverband IT-Sicherheit e.V. und Bitkom Arbeitskreis Sicherheitsmanagement für die Erarbeitung von Standards und Handlungsempfehlungen. Mehr unter www.rhebo.com.
VNG Innovation GmbH is a 100 percent subsidiary of VNG AG and a company of the VNG Group. It was founded in 2015 and enters into strategic partnerships with startups that deal in particular with topics and solutions for the energy industry. The focus of investment lies in the areas of energy efficiency, energy storage, energy conversion, digitization, mobility and sustainability. Founders who fit this description can apply using the contact form on the company's website. More at: www.vng-innovation.de.
Image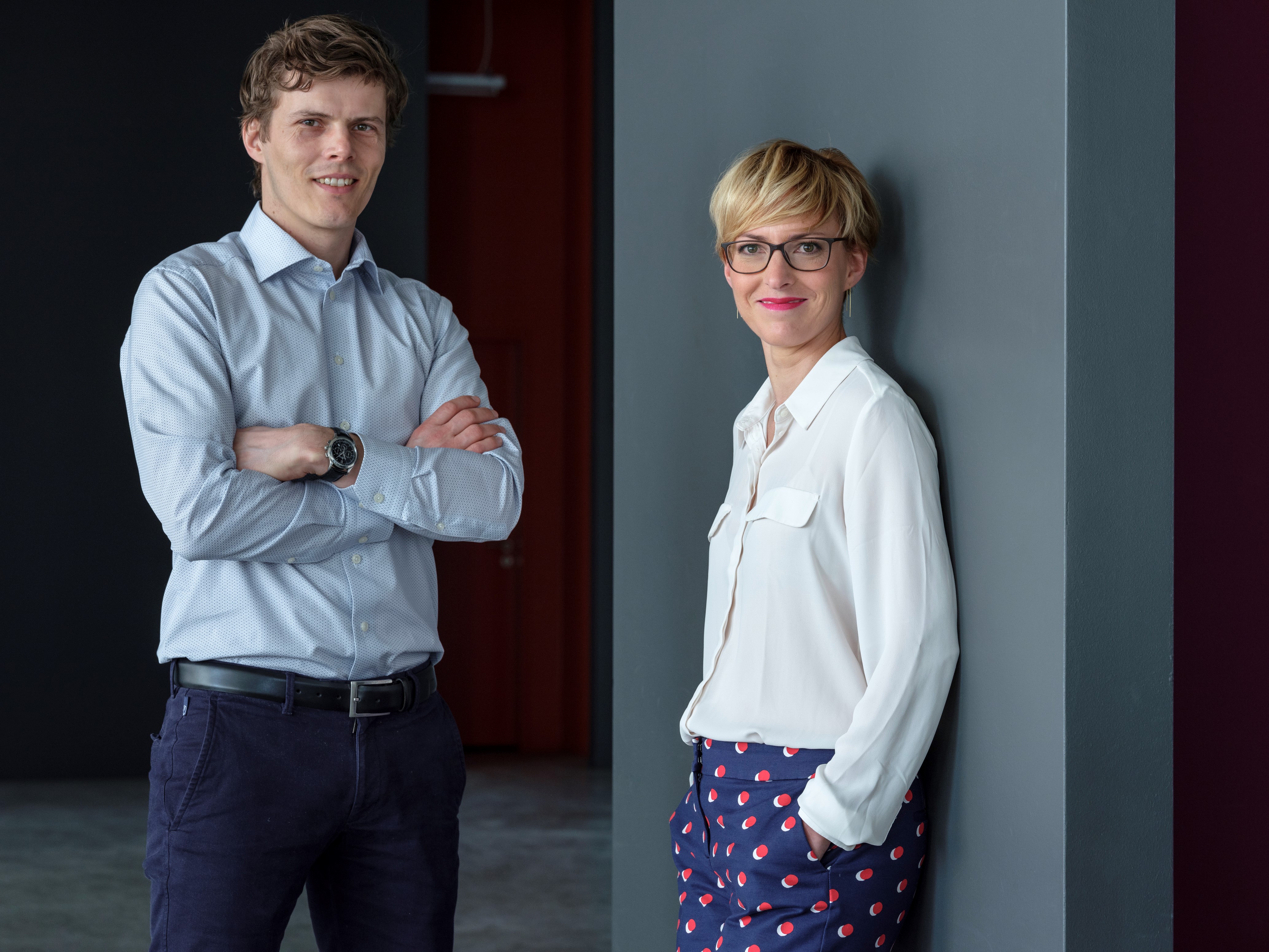 Geschäftsführung der Rhebo GmbH aus Leipzig: Klaus Mochalski und Kristin Preßler. Foto: © Christoph Busse